Genuineways has been committed to exploring more effective intellectual property protection modes of PC markets. After consultation with Canon, Epson, Brother and other trademark owners, and Tianhe Branch of Guangzhou Administration for Industry and Commerce, Genuineways, on the basis of comprehensive research, created the intellectual property protection mode based on interaction with computer market management - Self-Discipline Project of Guangzhou Computer Markets.
The project has obtained strong supports from most influential markets of Guangzhou, such as Buynow Plaza, Tianhe Computer City, EGO Digital Plaza and Pacific Digital Plaza(I, II)as well as from Japan External Trade Organization (JETRO).
The project launching ceremony was conducted at the square of Buynow Plaza, Tianhe District of Guangzhou on September 27, 2007. During this ceremony, Mr. HUANG Biao - District Chief of Tianhe District of Guangzhou, Mr. ZHOU Banghua - Director of Tianhe AIC, representatives of three brands, Mr. Makoto Kawasaki - Consulate of Consulate-General of Japan in Guangzhou, Mr. CAO Laixi - chairman of Genuineways, all gave short and perceptive addresses and signed Memorandum on Protection of Intellectual Property Rights with market operators.
The core of the project is: "Respecting Knowledge, Advocating Innovation, Being Honest and Credible, and Abiding by Laws". The cooperation mode was confirmed by the memorandum signed by all parties.
Genuineways cooperated with market operators in the daily work, including: providing information of dealers which infringing above mentioned three brands, helping market operators to identify authenticity of suspected products or not, helping market operators to arrange investigation.
Market operators conducted self examinations to stop any trademark infringements in their markets. At same time, market operators inspected the dealers suspected of infringing the above mentioned three trademarks based on information or evidence provided by Genuineways. Where the infringement is confirmed, the infringing dealer will be subject to punishment based on the provisions of the Memorandum and agreement signed between the dealers and the market management.
The launch of this project had drawn much media attention, such as Guangzhou Television and Southern Television Guangdong which reported in their news programs and Yangcheng Evening News and New Express Daily conducting in-depth reports about this project.
The carrying out of the Self-Discipline Project of Guangzhou Computer Markets will definitely protect the benefits of the trademark owners and consumers, strongly promote the setting up and perfecting of good business environment that respects the law and IP rights,and contribute to the purification of business environment. This project also creates the win-win situation among the trademark owners, market management, operators, consumer, AIC etc enforcement agencies.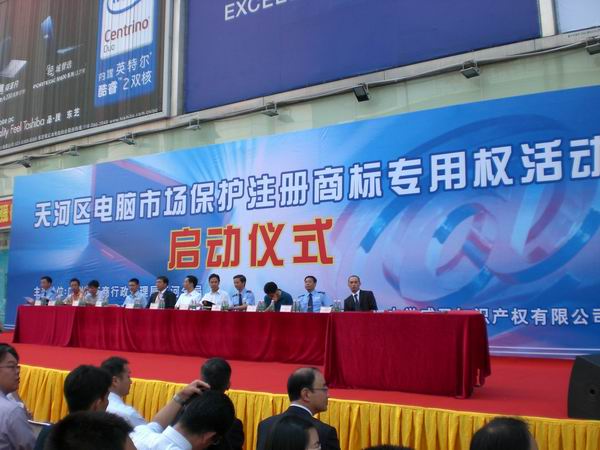 Project launching ceremony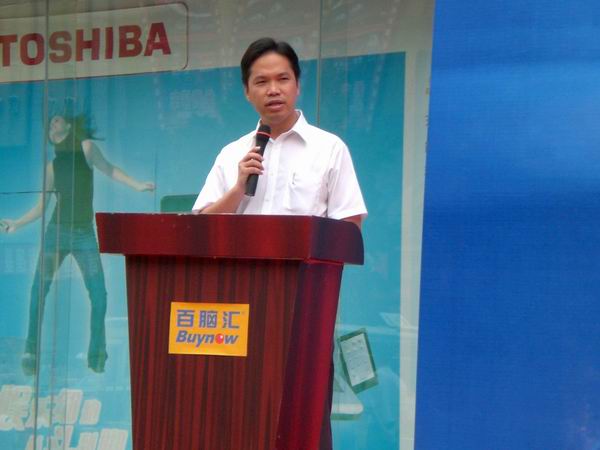 Deputy Chief of Tianhe District People's Government giving a speech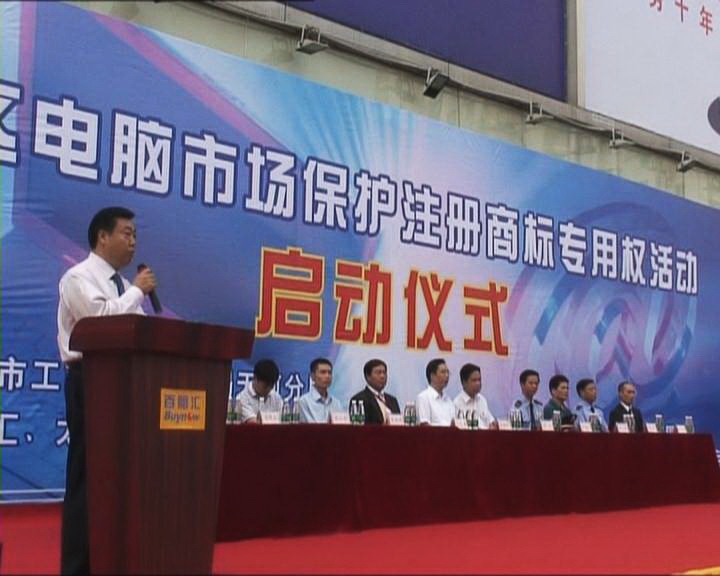 CAO Laixi, general manager of Genuineways, giving a speech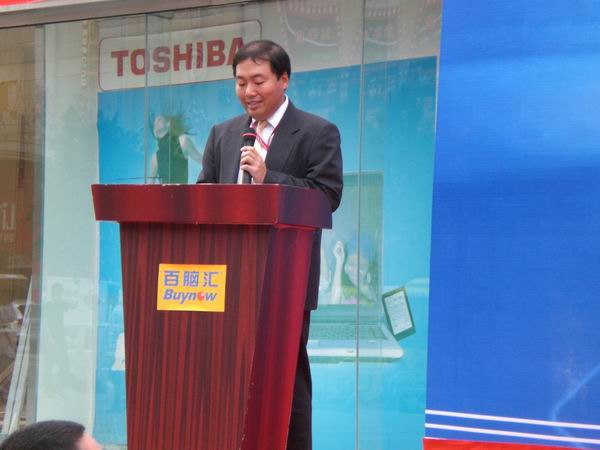 Mr. Makoto Kawasaki, Consulate of Consulate-General of Japan in Guangzhou, giving a speech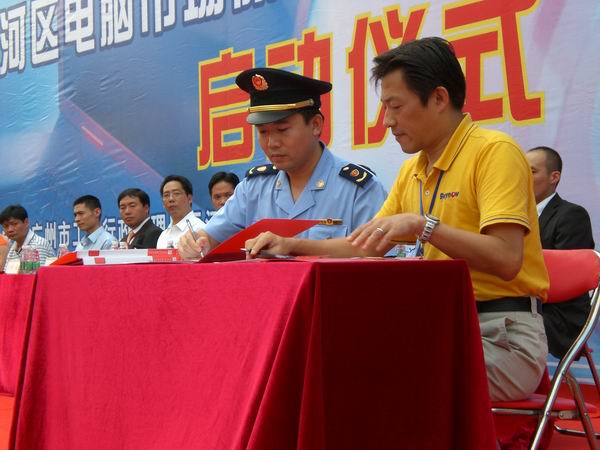 AIC representative and other partners signing relevant instruments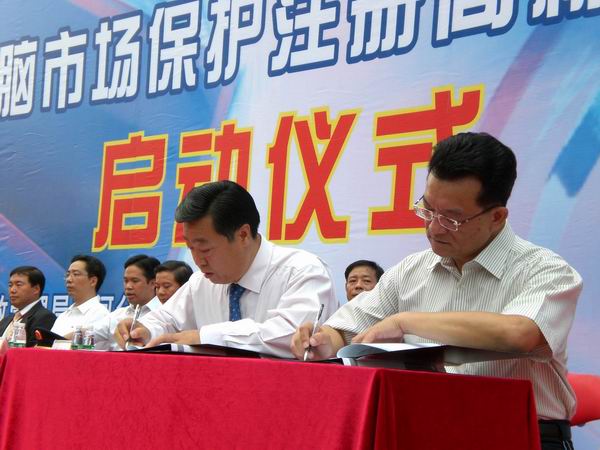 CAO Laixi, general manager of Genuineways and CHEN Zhihua, president of Guangdong Province Computer Chamber and representative of the markets, signed a memorandum of cooperation

Report of Yangcheng Evening News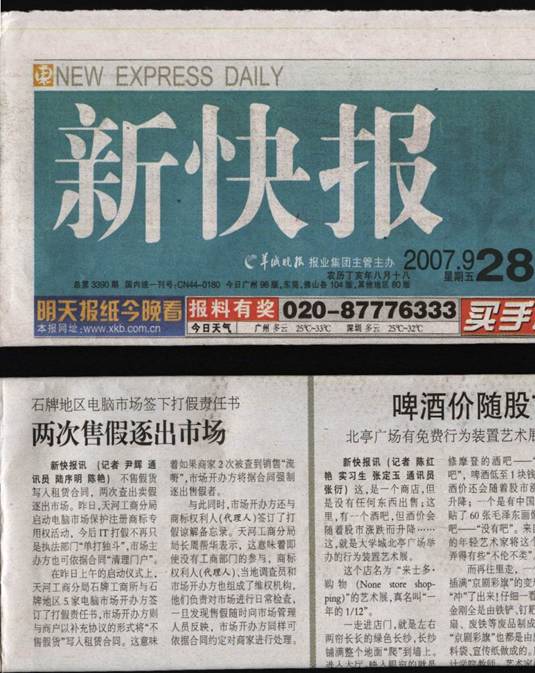 Report of New Express Daily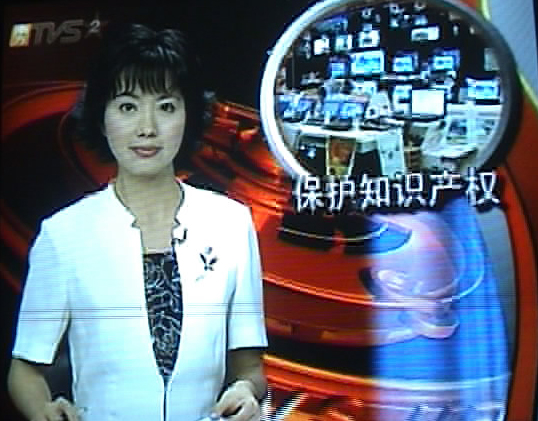 Midday news report of Southern Television